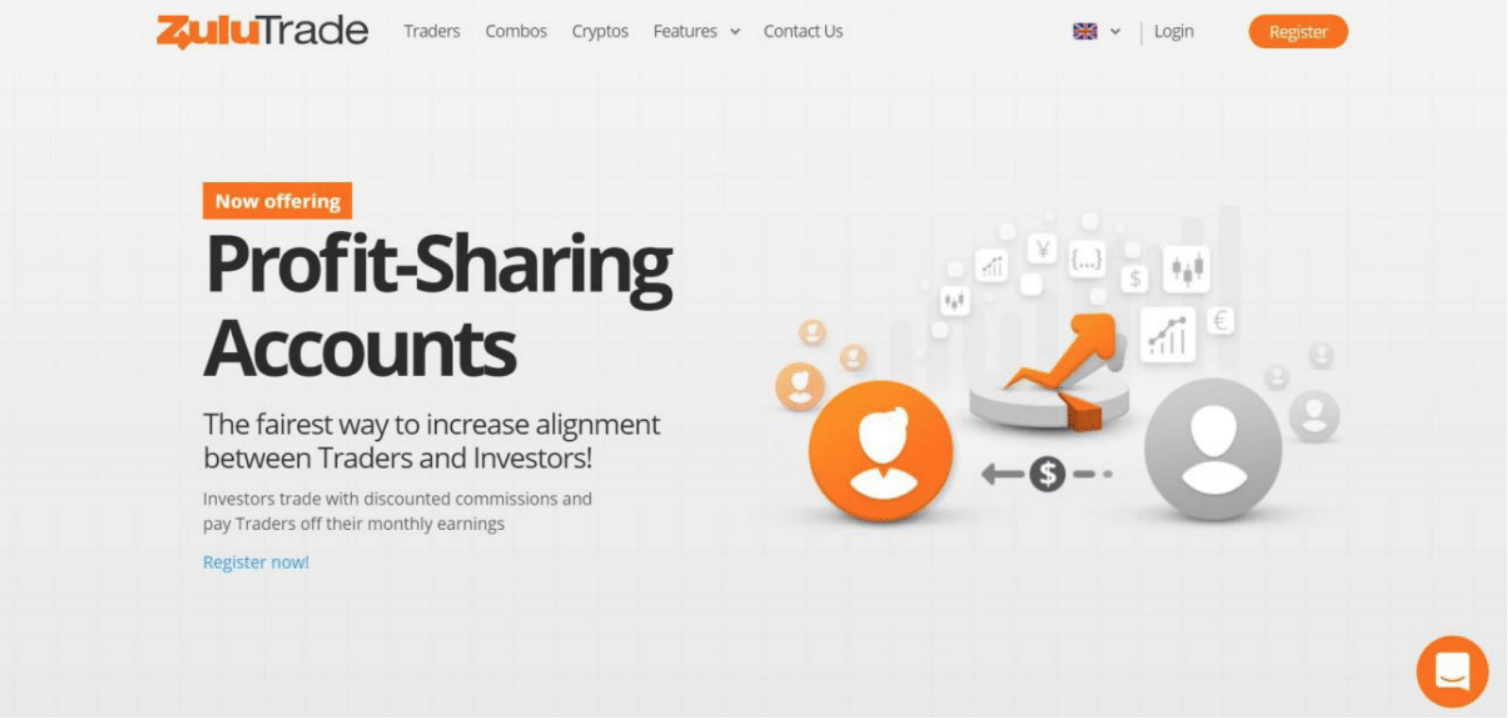 Social or copy trading
innovator
Allot of available tools
Pros
Excellent online trading platform
exceptional customer support
Cons
Not profitable traders are also registered as signal providers
Details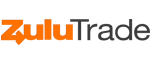 | | |
| --- | --- |
| Broker | Zulutrade |
| Website URL | https://www.zulutrade.com/ |
| Founded | 2007 |
| Headquarters | Greece |
| Support Number | +30 213 0176 399 |
| Languages | English , German , French , Italian , Spanish , Portuguese , Russian , Arabic , Chinese , Japanese , Greek |
| Trading Platform | Web based trading platform |
| Minimum 1st Deposit | $300 |
| Bonus | $25 no deposit bonus |
| Free Demo Account | |
| Regulated | |
| Regulation | FCA |
| Account Types | Classic Account , Profit Sharing Account , Demo Account |
| Deposit Methods | Credit \ Debit Card , Bank Wire Transfer, various e-wallets, ZuluTrade MasterCard |
| Withdrawal Methods | Credit \ Debit Card , Bank Wire Transfer, various e-wallets, ZuluTrade MasterCard |
| Overall Score | |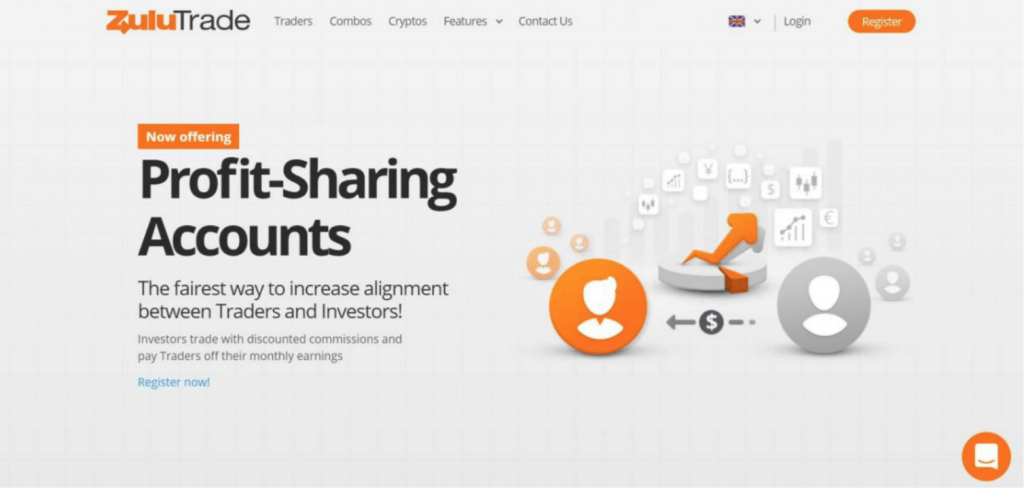 Zulutrade Review
ZuluTrade is an online social and copy trading platform that allows traders to automatically copy the trades of experienced traders in the financial markets. The ZuluTrade brokerage is very unique as it connects traders from over 50 online trading brokerages by partnering with these brokers and providing them with the ZuluTrade social trading and copy trading functionalities. Therefore, ZuluTrade is clearly not your traditional online trading brokerage as it connects traders with one another from all over the world and from numerous brokerages and trading platforms. To get an understanding of just how big ZuluTrade is, the total transaction volume is currently $1,076,665,518,301 USD. All of which is traded in a safe and secure social trading environment.
ZuluTrade was founded in 2007 by Leon Yohai and became the first web based platform that could audit traders on a global scale and at the same time facilitate social trading by connecting traders with one another and enabling them to share strategies, positions, and more. ZuluTrade is based out of Greece with their headquarters located at Akti Kondili 14, Piraeus 185 45. As well, ZuluTrade has head offices located in the United States, United Kingdom, and Japan. Therefore, the brokerage is truly international and provides their services in 11 languages including; English, German, French, Italian, Spanish, Portuguese, Russian, Arabic, Chinese, Japanese and Greek.
In order to reliably offer the trading services ZuluTrade provides, they became licensed and regulated by two regulatory authorities; Greece's Hellenic Capital Market Commission (HCMC) and Japans Financial Services Agency (FSA). Furthermore, ZuluTrade is also partnered with over 50 online trading brokerages, many of which are regulated. Also, they have a Portfolio Management License from the European Union.
All in all, ZuluTrade is a highly reputable social trading service that's trusted and used by many. However, there are other social and copy trading services out there, so is ZuluTrade the right social trading platform for you? Find out in our in-depth review where we analyze all aspects ZuluTrade has to offer and see if they are right for you.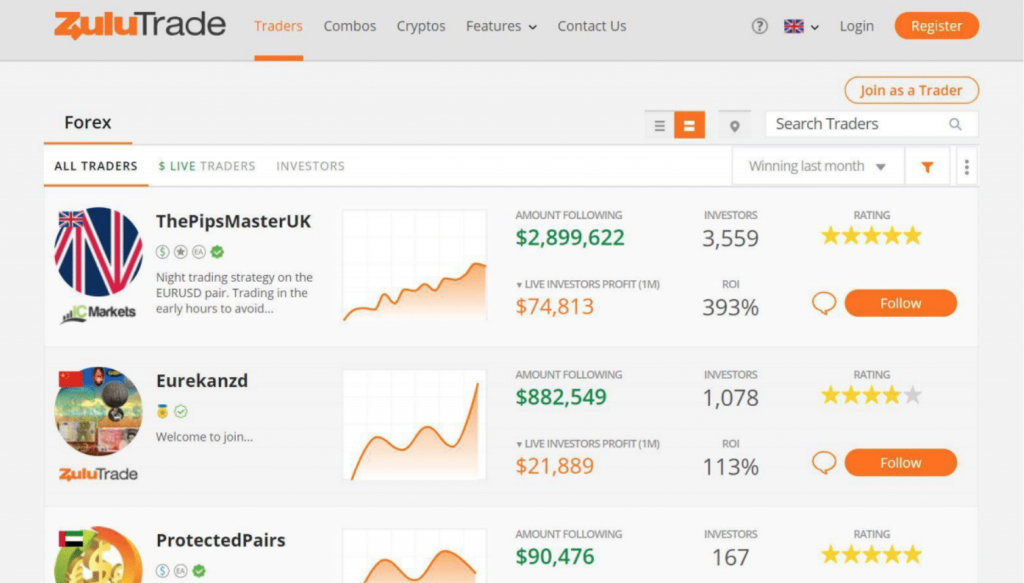 ZuluTrade Types of Trading Accounts
ZuluTrade features two main types of accounts, each of which are very different from one another in the services they provide. As well, ZuluTrade has a demo account. See the account types overviewed below.
Classic Account
This type of account is meant for advanced traders as the users of this account are signal providers. Meaning these users must make their own trades which are then broadcasted across the entire ZuluTrade network for everyone to see, learn from, and copy. The better the trader is, the higher ranked they will be and the more followers they will gain. Successful signal providers can profit both from the trades they make and the volume-based commissions from traders who follow them. Therefore, professional traders might as well trade on a ZuluTrade signal provider account, so they can profit even more from their successful trades.
Profit Sharing Account
This trading account is meant for beginner or inexperienced traders as they do not trade themselves, but rather follow, copy, and learn from other traders (signal providers). Users in this account can follow and copy as many traders as they like and even choose which trades they want to copy. The profit sharing account is what makes ZuluTrade so popular as many of ZuluTrade users simply want to copy successful traders rather than trade themselves.
Demo Account
The ZuluTrade demo account is a live practice account in which traders are given $100,000 in virtual money to practice trading in real time. Traders can learn how the ZuluTrade platform works and test out new strategies just as if it was a real account.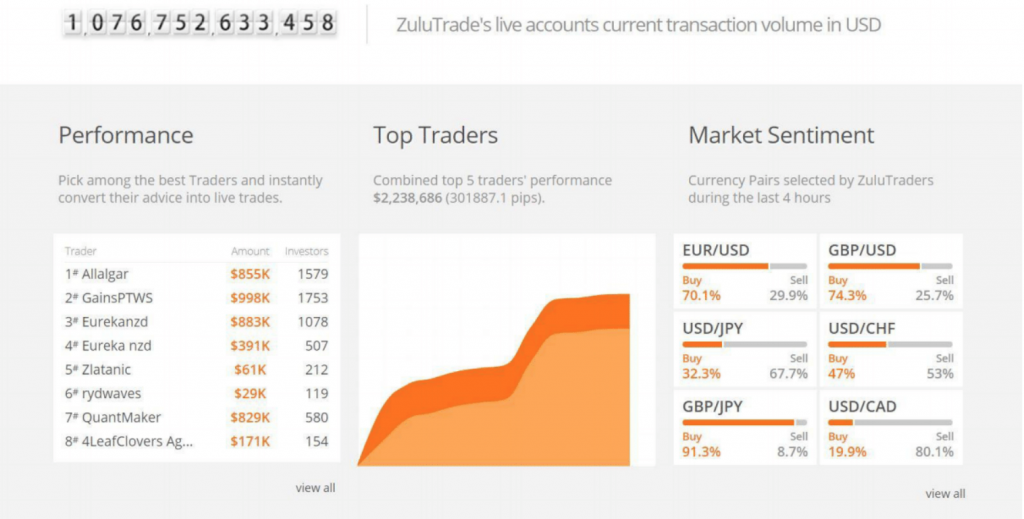 ZuluTrade Trading Platforms
The ZuluTrade platform is a proprietary web based trading platform that's accessible from various operating systems including Windows, Mac, and Linux desktop computers and iOS and Android mobile devices. The platform is very advanced and features a sophisticated charting package, auto trading functionality, trading bots, and a ZuluTrade API. While these features are very advanced, the platform still accomodates beginner traders as well with an intuitively designed user interface.
Traders can view various statistics on the signal providers they choose to follow such as their rank, trade history, current trades, profitability, and more. These statistics can be viewed in a couple of ways such as tables and charts. Traders also have the chance to interact with signal providers in forums and through personal messages. All in all, the trading platform is packed with useful features that are easy to use and understand. The trading platform does a great job at accommodating both the experienced traders (signal providers) and the beginner social traders.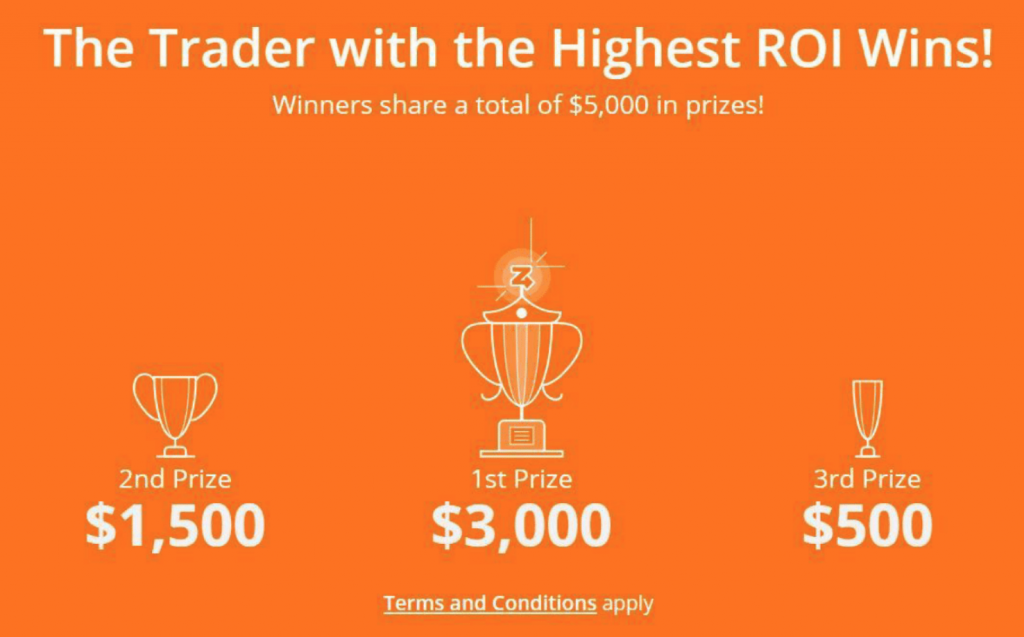 ZuluTrade Welcome Offers
ZuluTrade does not focus too heavily on bonuses and promotions like some trading brokerages do. They feel as though the services they provide are enticing enough that they do not need extensive welcome offers. However, ZuluTrade does offer new clients to the platform minor promotions from time to time. For instance, a recent welcome offer that they had was a $25 no deposit bonus just for signing up. Other promotions that are continuous with the ZuluTrade platform are contests. Traders can participate in trading contests where the trader with the highest ROI (return on investment) wins the competition. These contests generally reward around $5000 in prizes and occur once or twice a month. Both new and existing traders can participate in these contests by paying a small fee to enter.
ZuluTrade Commissions & Spreads
ZuluTrade is absolutely free to join with no annual account or subscription fees. The way ZuluTrade makes money is by collecting a fee on the spread of each trade. Depending on the trading brokerage used, the spreads can vary massively as ZuluTrade is partnered with over 50 trading brokerages all with different spreads, fees, and commissions. Instead of the traders paying a fee for copying a signal provider, ZuluTrade pays the signal provider based on their success rate. Therefore, both traders and signal providers only pay the spread on each trade and ZuluTrade takes a portion of that spread and rewards successful signal providers with it. As for all other fees such as deposit and withdrawal fees, account inactivity, etc., it depends on the brokerage being used.
ZuluTrade Deposits & Withdrawals
Just like with the fees and commissions, the deposit and withdrawal options vary between broker to broker. Usually, the minimum deposit amount is around $300. As for the deposit options available, they usually include Credit / Debit Card, Bank Wire Transfer, various e-wallets, and the ZuluTrade MasterCard. The fees and time frames for these deposit methods will also vary depending on the broker used. Overall, traders should be able to find a broker with favorable deposit methods and fees.
As for withdrawals, ZuluTrade clients are limited to withdrawing funds only by the methods supported by them and not by other brokers. The withdrawal methods available to ZuluTrade users include; PayPal, Bank Wire Transfer, and ZuluTrade MasterCard. This is a rather limited number of options and the fees can add up quite high. For instance, when withdrawing up to $500 via PayPal, traders incur a fee of $20 and when over $500 is withdrawn, traders must pay a fee of $20 plus 3.9%. Also, international Bank Wire Transfers incur a fee of $45 and the lowest withdrawal option available is with the ZuluTrade MasterCard which has a withdrawal fee of $20. All in all, the withdrawal methods available are very limited and come with high fees.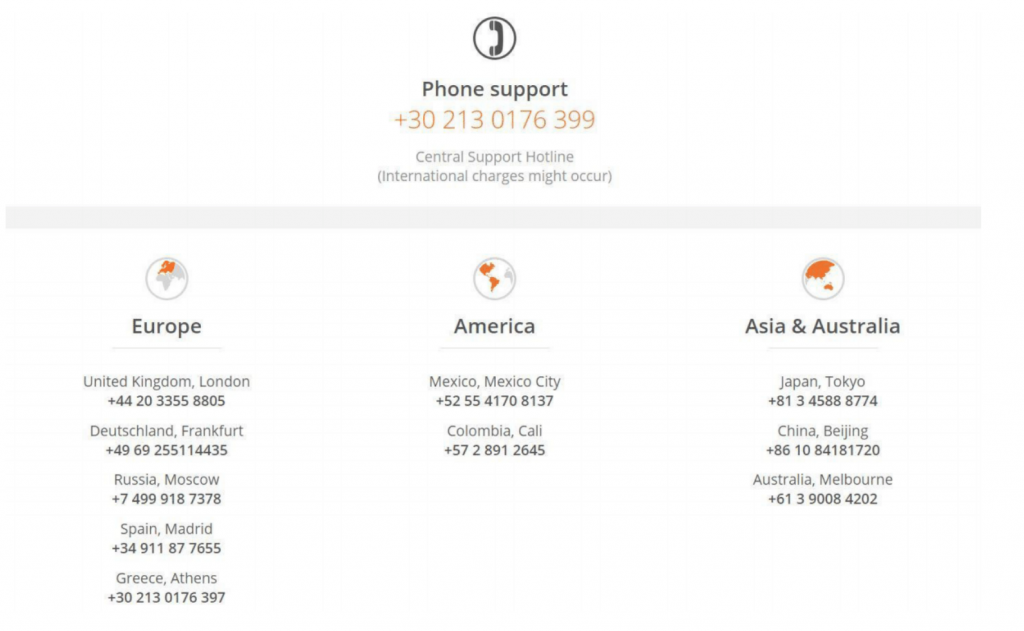 ZuluTrade Customer Care & Support
ZuluTrade has exceptional customer support that's available 24 hours a day, 7 days a week. Support representatives can be reached via email, live chat, and telephone support in 10 countries and in 11 different languages including; English, German, French, Italian, Spanish, Portuguese, Russian, Arabic, Chinese, Japanese and Greek. As well, traders have access to a community forum, an extensive FAQ page, a blog and a support center with tutorials, guides, and more.
What we think of trading at ZuluTrade?
We believe that ZuluTrade is an excellent online trading platform for traders interested in participating in social and or copy trading. The brokerage is highly experienced in this regard and has continued to be an innovator in the social trading industry. We love the trading platform and all the available tools and features available for not only trading but analyzing signal providers to follow and copy. All in all, we highly recommend ZuluTrade as a viable online social trading platform.
Visit Broker