Think or Swim
Introduction: Powerful Platform of TD Ameritrade Firm
Thinkorswim, TOS, is a trading platform issued by TD Ameritrade in 2009. It is one of the most popular trading platforms in the market, providing quality educational content and interactive services for fresh and advanced traders such as instructor-led synchronous, in-person workshops, live-chat and email support. Besides, it abets in trading a wide variety of fields such as options, futures, fixed income, index products, equity securities and foreign exchange. Notably, the platform is free for all the TD Ameritrade customers.
Installation: Detail Instruction in the Official Website
The most common way you can get Thinkorswim platform is accessing the website TD Ameritrade and choosing Tools & Platforms item. On the left side of the screen is a list of options. Clicking the "Thinkorswim" item will have a new tab appear. This tab shows installation instruction for various operating systems of computers such as Windows, Mac OS X, Linux and other platforms. Click "Install thinkorswim" to download the thinkorswim installer. When the download is completed, you should follow the instruction step-by-step to install the application. The thinkorswim logo will appear on your desktop once the installation process is done.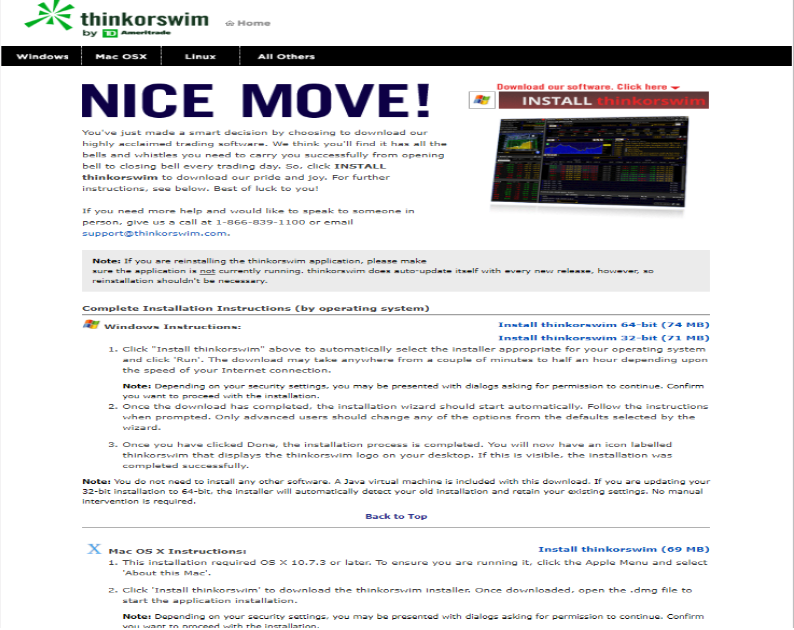 Basic Navigation: Flexible and Friendly Tools
There are several tabs located on the top of TOS platform such as Monitor, Analyze, Scan, Marketwatch, Charts, Tools and Help. When you snap the Charts tab, a layout of windows that can be modified appears. You can customise the window based on buttons: News, L2 (Level 2), Chart, Buttons, Active Trader, T&S.
Charts: the TOS charts are flexible, providing a traditional bar, line and candlesticks for charting for traders. Charts can be connected to other windows via colour code, making it easier when shifting between different stocks on several time frames.
Technical Indicators: The platform provides a plethora of tools and indicators for users. They are distributed in the categories such as momentum studies, trend studies to discriminate studies of gurus like John Carter or John Person.
Level 2: The level 2 is fundamental and represents the significant exchanges and ECNs; however, there is no subscription presently to the NYSE Open book or Nasdaq TotalView feeds. The good news is level 2 is free.
News: The newsfeed is necessary when traders look up information and data about the stock. It updates news second-by-second, helping fundamental traders always stay on top of the market.
Scanners: The scanners can be organized based on fundamental or technical criteria. It is flexible and useful for ideas and promise trades. The option scanner is a good conveyance to get options trades that fulfil several set-up criteria.
Order entry: TOS offers fundamental order entry buttons that use point-and-click on the Level 2 for pricing options. Traders can choose to use a vertical DOM matrix to make orders. TOS doesn't support straight order routing and instead uses its own algorithms to fill orders via their own dark pool. This can disappoint momentum traders, but it's necessary to stick to limit orders.
Alerts: The platform enables you to set price or indicator-based alerts, which help focus more on the set-ups and to not worry about managing what hasn't appeared.
Watchlists: TOP has remodelled watch lists with gappers/dumpers, new highs/lows and stocks trading at particular volume and price change levels. It also provides watchlist windows for you to add to your watchlist.
Features: Useful Features for Traders
Research and tools: This platform meets all the needs of the advanced trader. One of its exciting features is the customisation of the workspace and Thinkorswim. Sharing that allows traders to share their customisation with each other. The investor also can apply scanners in filtering stocks and options, utilising the company profile tool to determine revenue and speculate the impact on returns and measuring extensive third-party research. Besides, the platform has a forum where traders can share their strategies and knowledge for free.
Mobile trading: This platform also operates in a mobile app, Apple and Android, that betrays the desktop platform. Investors can do many activities such as funding their account, initiating trades, watching streaming news, and observing charts from mobile devices.
Investor Education: TOP provides a plethora of learning materials such as instructional videos and forums. Besides, it also delivers daily "Swim Lessons", platform demonstrations, virtual margin and IRA accounts, in which traders can practice trading.
Setting Up a Trade: Several Noteworthy Orders
Entering Stop/Limit Orders
Modify the quantity in the second line of the Big Buttons panel.
Check the Bid Size or Ask Size column in the Active Trader ladder to observe a bubble appeared in the Buy Orders or Sell Orders items. The bubble connotes direction of trade, quantity and sort of order while its location denotes the price level at which the order will be placed.
Click at the desired price level
Proceed with order confirmation
Entering a First Triggers Order
A 1st Triggers order is an aggregated operation in which an order leads to execution of another order.
Choose TRG w/bracket lie in the second line of the Big Buttons panel. This choice will present a new section with added orders: Limit and Stop.
Decide which order you would like to trigger when the first order fills, and eliminate the other.
Modify the quantity and time in force.
Set the offset. The offset is the difference between the prices of the orders. It can be categorized as a dollar amount, ticks or percentage.
Linger the mouse around the Bid Size or Ask Size column. Note how Active Trader adds an added bubble in the other column.
Choose the desired price level.
Confirm order.
Once the order is sent, two bubbles come out in Bid Size and Ask Size columns. Whilst the first order is working, you can drag its bubble along the price ladder, so its price will change: after confirmation, the second bubble will also alter its position to retain the offset you specified at Step 4.
Entering a First Triggers OCO Order
An OCO (One Cancels Other) order is aggregation operation in which an order cancels execution of another order. It may be utilised as the triggered order in a First Triggers so that when the first order fills, both OCO orders come into effect: when either of the latter is filled, the other is cancelled.
Using Order Bubbles in Active Trader Ladder
When you place an order in Active Trader, it is shown as a bubble in the ladder. Bubbles denote order price, trade direction, and quantity, and they can also be applied for order editing or cancellation. Carting a bubble along the ladder will alter the price so you will discern another order confirmation dialogue. Once you confirm and send, the bubble will set new place and the order will begin working with this new price. To dismiss an order, you just snap "x" in its bubble.
Conclusion: Top Platform for Beginner Investors
Although Thinkorswim is not as popular as other platforms such as MT4 or the cTrader, it has been applauded by users and traders because of its flexibility and efficiency.
The platform supports access to nearly all the key financial markets. Besides, it is well-known for excellent customer service and its flexible, customizable trading platform. Customers also can interact to a wide range of third-party investment research groups containing Standard & Poor's, Morningstar, Jaywalk and TheStreet. Barron's magazine rated Thinkorswim's parent company- TD Ameritrade #1 for Beginner Investors and #1 for Long-Term Investing, which can assure all investors the value of this platform.